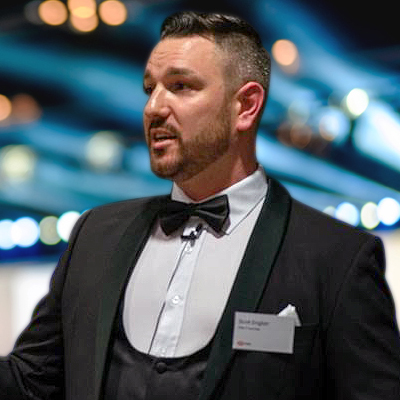 Scott English, CEMG
The last few months have been tough but there are several key steps entrepreneurial businesses can take right now to stay on track, says Scott English, Brand Director of CEMG, a publishing company which provides publications and events for entrepreneurs.
Scott English says that the past few months have been enormously challenging for entrepreneurial businesses, many of whom have found themselves in impossible situations through no fault of their own. He says: "Some businesses have been doing well during lockdown, such as food and drink companies, because staying in is the new going out. And some businesses have been able to pivot, for example tutoring businesses which have been able to move their courses online. But on the flip side there are some companies that have literally not been able to do anything – for example training children how to swim. That is an impossible situation when swimming pools are shut and you can't do that virtually. For those businesses there isn't much they can do apart from ask for help."
For those businesses that have been able to keep trading, Scott says there are several important things they should be doing right now to stay on track. The first and most important one is to continue to provide training for their employees. He says: "When people are working remotely, it is very easy to let them just get on with it, but it is important to stick to training schedules to keep people feeling that they are moving forward. The most important thing in your business is your team and so you need to keep them motivated so that they don't move away and look elsewhere."
The second thing business should be doing is looking at what kind of innovation and technology they can introduce into the business. Scott says: "Business owners need to research what type of technology can push their business forward. Everyone keeps talking about adapting to this new normal but we think that people should be looking at this to make it a better normal. So a really important thing they should be doing is to focus on how they can innovate and evolve their products and the technologies they need."
Businesses should also remember to focus on their long term vision for the company, he says: "When you are in disaster recovery mode it is really easy to forget your long term goals of why you are in business to start with and how you want to grow your business and move forward. So make sure you stay focused on your long term goals, whether that be an exit strategy or something else."
It is also important to stay connected to the wider business community, Scott says: "Try not to be an introvert. Look wider. Understand your network as an entrepreneur and go back to what you do best in terms of reaching out and creating new connections. Collaborations are absolutely key at the moment and even competitors are much more open to collaboration and working together to move forward."
Scott says that businesses should be prepared to adapt to the new situation we all find ourselves in, and that entrepreneurs need to remember that they have already survived worse situations – when they were starting up their businesses.
He says: "Entrepreneurs need to remember what it was like when they first launched their business because that was a lot harder than the situation they are facing now. When you are launching something completely from the beginning, you face a lot of negativity and everybody saying no to you, but an entrepreneur fights back and succeeds. During this difficult time, entrepreneurs need to go back to their roots and think about what they had to do when they originally started their business in order to create a position for themselves in the market place. They did it then and so they can do it again now."
He adds: "Nobody wants to do something that is difficult. But at the moment people are going to have to do difficult things in order to survive. It is as simple as that. The strong survive and the weak don't. Whether they like it or not, business owners may need to change their products and services to meet this better normal and if they are not prepared to do that, then they are preparing to fail."
Scott's top tips for businesses right now
1. Keep providing training for your team
2. Focus on innovation and technology
3. Remember your long term vision for the business
4. Stay connected
5. Be prepared to pivot
Related content