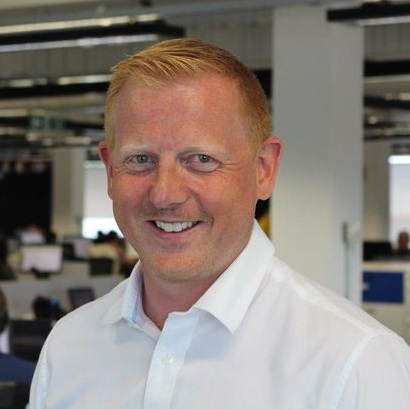 Mark Sellers, TalkTalk Business Direct
Many businesses are likely to adopt a permanent hybrid model for how their employees work as we emerge from the pandemic, says Mark Sellers, Managing Director of TalkTalk Business Direct.
A hybrid way of working looks set to be a popular option for many businesses as we emerge from the pandemic, says Mark Sellers, Managing Director of TalkTalk Business Direct.
He says a substantial number of SMEs and larger businesses are likely to allow their employees to split their working week between the office and their home on a permanent basis going forward.
Mark says: "I think we are seeing a real step change in the way that businesses operate. We will no longer be a nation of 9 to 5ers. Going forward there is going to be a more hybrid way of working. I think we will move towards a hybrid model where people are in the office two or three days a week and two or three days working from home."
He said a hybrid model combining 2 to 3 days working from home with 2 to 3 days working in the office would enable employees to create a healthy work life balance while still being able to connect and collaborate with fellow workers face to face.
"I think it is important that people have that office space as well as their own home space because even with all the online tools we have, it can be difficult to work collaboratively online, and sometimes you can't beat having a bit of face to face interaction. That water cooler moment and that five-minute chat with someone can make working together a lot easier."
However Mark said that the key to the success of a hybrid model is for a business to have strong, reliable connectivity, something which can be improved by businesses moving from traditional copper connectivity to full fibre connectivity as soon as this is available in their area. Tapping into the fastest, most reliable connectivity available to businesses will be important to ensure the benefits of having employees working in two different places are felt.
"Having strong, reliable connectivity is absolutely key for businesses. Many businesses are adopting cloud-based solutions which allow employees to use mobile apps on their phones or laptops to facilitate how they work, and if you don't have that kind of functionality it will hinder productivity."
Mark says that many businesses, including TalkTalk itself, have been surprised and impressed by the wide range of roles that employees have been able to achieve from home, with secure fibre connectivity making it possible for employees to carry out even sensitive roles from home that businesses could never have imagined being possible from outside the office.
He says: "We have been able to allow people to work from home in roles that we never thought we would be able to in the past. Having the right security products and the right firewalls in place allows people to deal with customer payments or customer accounts which historically you would never have dreamt of being able to do from home. It is all about making sure that you have got the right security and the right connectivity in place."
He said that Talk Talk's network usage has risen by 40% across the board over the past 12 months as businesses have discovered how much they are able to do away from the office. Connectivity has never been so important and TalkTalk has continued to invest in its network to meet rising demand and ensure network performance remained unaffected.
Mark says that embracing a hybrid way of working opens up huge opportunities for growth for many businesses, including making it more attractive for younger workers to join their workforce.
"I think it opens up whole different avenues for businesses in terms of the way they work, because it enables them to be a lot more agile and flexible, and that approach is something that is a lot more appealing to younger people than a traditional 9 to 5 structure."
Mark's Top Tips for businesses
1. Make sure your business has strong, secure, reliable connectivity.
2. Build a culture of trust with your employees so they are equally comfortable and productive working from home or the office.
3. Make sure you put the right training and processes in place for your employees to embrace hybrid working.
Related content