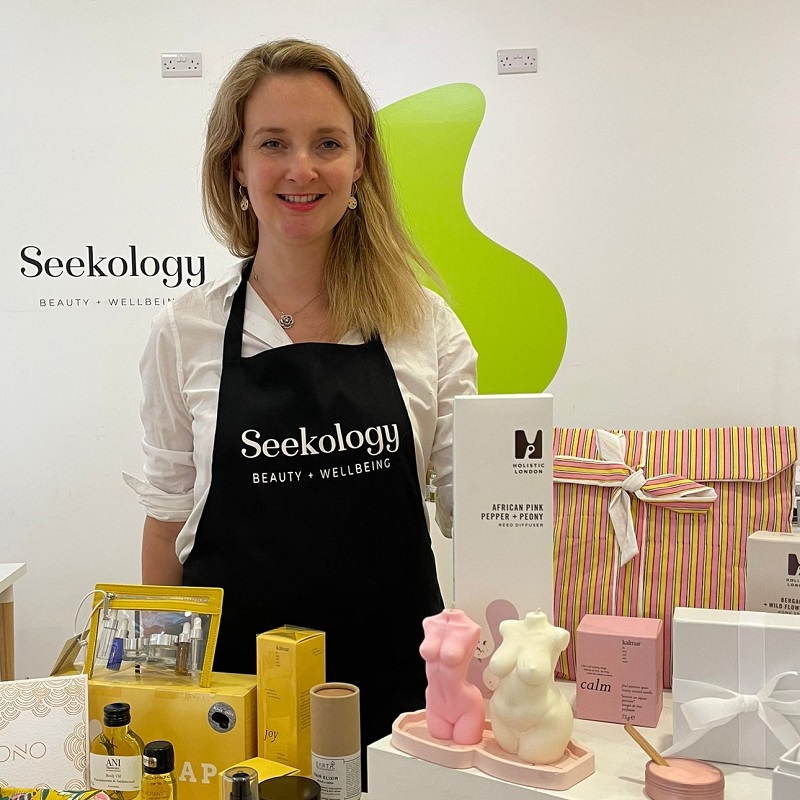 How to land a retail deal
It's easier to persuade a retailer to stock your product if you do your homework first, says Rebecca Saunders, a former buyer at John Lewis who now runs Seekology, which sells independent beauty and wellbeing brands online and in pop up shops.
Here's how to improve your chances of success:
1. Decide what makes your brand stand out

Rebecca says: "Before a brand even thinks about retail, it needs to have a really distinctive USP (unique selling point) that solves a problem for a customer. Consider what is special about your brand and why a customer would choose it rather than another one on the market."

2. Provide proof that your product is going to sell

Rebecca says: "Retailers will want to see evidence of successful sales because they need to be really confident that the product is going to sell better than what they have already, particularly in physical shops where there is a finite amount of space and they will probably have to take another brand off the shelves to make room for it. For some brands that could mean getting sales proof by selling through pop up shops or markets, for example."

3. Know your data

Rebecca says: "When you are approaching a retailer it is very helpful to be really on top of the data. Use it to understand how many customers you have, what your website performance looks like in terms of key ecommerce metrics like conversion, the proportion of your customers who are reordering. These are all really helpful pieces of data that you can share with the retailer to demonstrate that customers really like your brand and keep coming back. The data can also help you understand which your best-sellers are."

4. Get your pricing right

Rebecca says: "Make sure you have chosen sensible price points for the end customer - there is no point pricing something at £20.50 because a customer would expect to see that product at £20 or £19.99 or £19.95. And if you have got products in a range that are quite similar, for example five different candles that are all the same size, customers would expect those to be priced all the same even if the cost to you as the manufacturer is slightly different for each one."

5. Factor in the retailer margin

Rebecca says: "As a starting point expect to see a 2.5 times mark up from your wholesale price to the end retail price including VAT, depending on the retailer and category. So if the customer is buying the product at £25 that means the retailer would be buying it from you at £10. If you are spending £5 or £8 making and distributing that product plus the cost of your time, you need consider whether you can really make enough money from selling through a retail channel – and what sort of scale you would need to reach to be successful."

6. Invest in great photos

Rebecca says: "It is worth investing in really good photography before you approach any retailers. You will be expected to provide product images, particularly if they are going to list you online, and it is not good enough just get your iphone out to do those kind of shots. You will generally need two types of photos – pack shots of your product shot on a white background, and lifestyle shots of your products in use in a relevant setting, such as homeware in a room setting."

7. Get the packaging right

Rebecca: "Packaging is very important. At Seekology we took on a great product but the owner had never really tested the packaging before and when a customer picked it up, the packaging fell apart. So test your packaging first, and get people to be critical about it, before you invest a lot in it."

8. Prepare presentations

Rebecca says: "Create a presentation that is tailored for each different retailer. This should be an introduction to the brand with images and a product list, which explains the story behind the brand but also why it is going to be commercial. Retail buyers are a meld of creative and analytical, so they want something they think will inspire their customers but will also make money. Include customer testimonials, data and any PR and Press which demonstrates why this product could be successful for that particular retailer. Keep it short and snappy and make it punchy to get the buyer excited enough to have a meeting."

9. Factor in long lead times

Rebecca says: "Sometimes it can be a year from your first conversation with a traditional retailer to getting something on their shelves. With an ecommerce retailer it is quicker and at Seekology I pride myself on moving very quickly, but it can be a lengthy process so you need to be prepared for that."
Rebecca's Top tips that businesses can do right now
1. Get some proof of sales
2. Get some customer testimonials
3. Prepare your materials for buyers.
Rebecca Saunders is the Founder of Seekology, a beauty and wellbeing retailer.
Related content