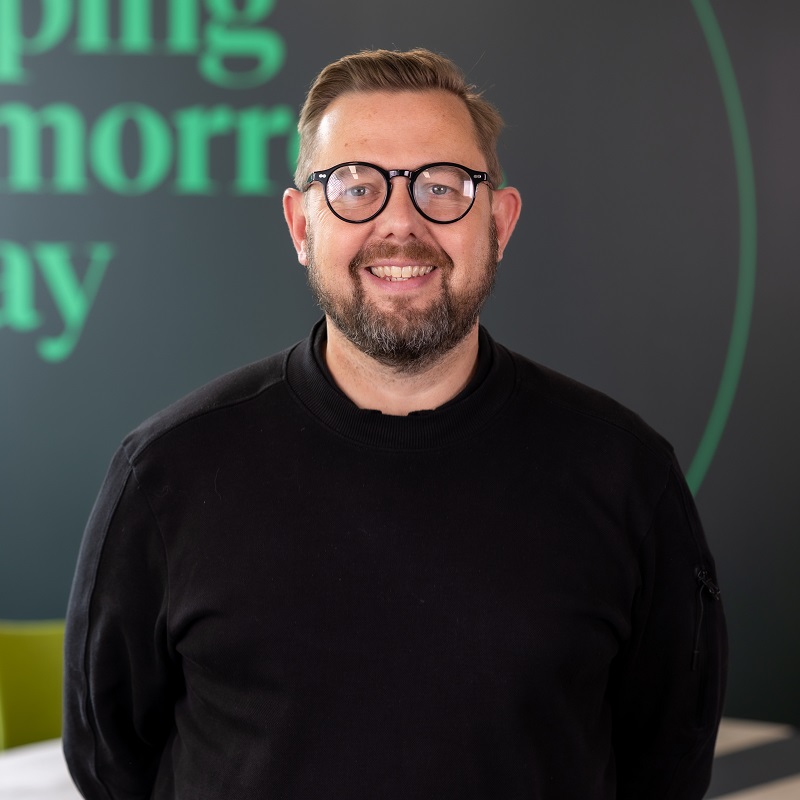 Tim Smeaton, Kubrick
Spotting an opportunity to close the technology skills gap in the employment market was the inspiration for Tim Smeaton to co-found technology consulting firm Kubrick, which trains graduates and junior professionals for client projects.
What does your business do?

Kubrick is a technology consulting firm, which trains graduates and junior professionals for client projects. It won the B2B Business of the Year category in the 2020 Growing Business Awards and has 650 employees.

What was the inspiration for your business?

My business partner Simon Walker and I had already built two recruitment businesses together and we realised there was a divergence between the technology skills ready and available in the workforce and the requirements of organisations for these skills. This gap is continuing to widen, hindering the advancement of businesses, organisations such as the NHS, and society as a whole, so we wanted to build a business that would help to address that. We do this by hiring lots of graduates and junior professionals and training them in next-generation technology for 15 weeks before deploying them into client projects as our employees.

How did you finance the growth of your business?

We funded it ourselves with money we had made from previous businesses. We took a lot of personal risk doing this because our business model requires a huge working capital commitment - we pay our consultants a salary during their 15 weeks' of training with no commitment from any organisation that they are going to give us a project at the end. It is a high-risk business model, but it has lots of barriers to entry, which is a fantastic benefit for us to minimise competition.

What has been the most difficult or challenging part of growing your business?

Designing the organisational structure and hiring the right people is the number one challenge for any fast-growing business; you need to find employees who will be capable of growing with your business to keep up with changes two years down the line, not those who suit your immediate needs. We have been trying to design the business for the future in a way that hasn't and won't hinder our growth.

What has been the impact of the pandemic on your business and how have you dealt with this?

Fortunately, the impact was very short-lived. When the pandemic hit, we paused the business because we were concerned that a lot of our clients wouldn't carry on with the projects that they were doing. But after two months, we realised that the demand for data-orientated projects was actually greater because of the response required to deal with Covid-19. Large organisations wanted to know what was happening in their business so that they could act upon changes in their market and most often the projects that we were working on gave those answers. From September 2020 onwards, we were back to hiring staff at the same rate as we had in the quarter before Covid hit and over the past year the business has grown by 60%. We were very lucky.

What key lesson have you learnt about setting up and growing a business?

As mentioned, one of our biggest challenges is hiring the right people with the right attitude. An advisor always used to say to me, 'you lose employees like you find them' - and this has stuck with me. If you interview someone who is really easy to pull out of their business or is rude about their previous employer, they will probably do the same to you. There is no quick and easy solution to hiring amazing people, so don't take shortcuts or lower your hiring standards because it can cause untold damage later on. , Equally, when an amazing person comes along, find a job for them.

What has been your biggest mistake?

I don't think we de-risked enough by taking some money out of the business when the opportunities arose. If you have all your savings in the business, you can get scared of going too fast because you think you might lose it all. So, bringing in investors can be a really good way to help you see when and how to de-risk and gain a different perspective.

What has been the secret of your success so far?

I just really love growing a business - I find it incredibly addictive. Other people are attracted by that energy and enthusiasm and want to come along for the ride, so it builds up momentum.

What advice would you give an entrepreneur just starting out about how to grow their business?

Keep a razor-sharp focus on your proposition and the value that you are trying to create for your customers, and do not deviate from that. Lots of your customers will ask you to make alterations for their individual needs or interests and that is the moment that it all goes wrong.

What personal quality or characteristic has been most useful to you as an entrepreneur as you grow your business?

Resilience.
Related content