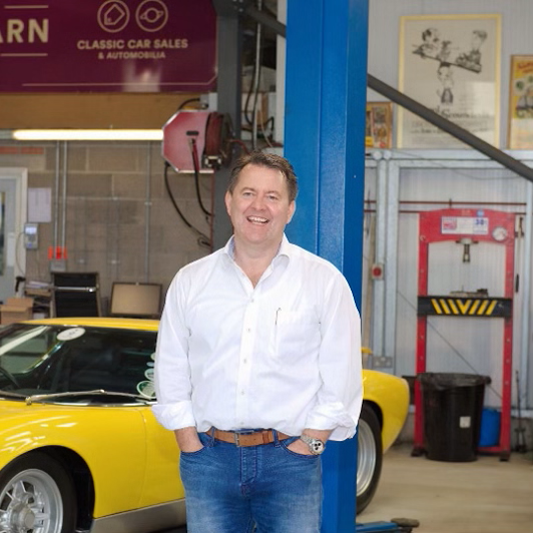 Niall Holden, VDC Trading
The vending machine has had to go but the challenges of the past year have left us lean and fighting fit, says Niall Holden, founder of cabling specialist VDC Trading, a £7.5 million turnover business which provides cabling equipment for concerts and live events.
What was the inspiration for your business?

I had always wanted to be in a band so when I left school at 16 I spent the next few years playing in bands and drifting in and out of low-paid jobs. Then at the age of 25 I became a van driver for a company that hired out equipment to pop bands. After 18 months I decided to see if I could do this myself, so I set up my own business with a business partner, using an Italian supplier.

One of our first orders was for 36 microphone stands for pop band The Eurythmics – we made £16 profit and were over the moon. The business really started to take off when we became the sole UK distributor for Klotz, a German company that makes cables and accessories. After a year however I discovered that Klotz had set up its own distribution company in competition with us. So we found another supplier of high-quality cables and began selling them under our own Van Damme Brand. We provide cabling equipment for concerts, festivals and live events including Glastonbury, the Olympics, and Royal Weddings.

How did you finance the growth of your business?

NatWest bank gave me a £5000 to start the business but my business partner and I spent it on a three-week holiday to Greece and company cars for both of us. We only had £128 left so we started the business with that.

As the business grew I was able to buy out my business partner and acquire a large warehouse in King's Cross, north London, that had been empty for years. The place had been used for raves and was disgusting. Everyone thought I was mad but it has turned out to be a great investment.

What has been the most difficult or challenging part of growing your business?

Getting the right team around me. If you can get the right people around the table you don't really talk about problems; you talk about the future and how to grow. But if you have the wrong people around you, it can end up being your biggest problem because it takes up so much of your time.

What has been the impact of the pandemic on your business and how have you dealt with this?

Initially our sales just fell off a cliff. It was absolutely terrifying. Everything just stopped and we lost over 90% of our turnover.

But looking back now, the pandemic has done me the biggest of favours. It has made me look at the Profit and Loss account and at all the margins; we have gone through everything at a granular level with a fine tooth comb, going right, do we need those plants in the building, get rid of those, get rid of the vending machine. We made some redundancies and slashed our overheads and I focused on cash flow to make sure we had enough money to keep things going.

It has been a good opportunity to really clear the slate and rebuild the business on a different mentality. It is like someone hit a reset button. We are now so fighting fit that we made more money in the first quarter of this year than we did in the first quarter of 2020, even though the turnover was much reduced. We have even started re-hiring.

A couple of our competitors are really struggling and one has actually thrown the towel in, so it really has been a survival of the fittest. The one thing that has saved us has been the strength of our Van Damme brand.

What key lesson have you learnt about setting up and growing a business?

You have got to be brave. Nothing is 100% certain, so you have got to get to about 60-70% and close your eyes, hold your nose and just take that entrepreneurial leap into the abyss. The worst thing you can do is nothing.

What has been your biggest mistake?

I don't look after myself enough. I give all my projects lots of attention and blue sky dreaming, but I should spend as much time looking after myself.

What has been the secret of your success so far?

Paying attention to detail and quality. You can't be a cheapskate, you have to spend the money where it is needed. You can't have a poor quality website or business card; it has to give the impression that there has been some thought and design behind it.

What advice would you give an entrepreneur just starting out about how to grow their business?

Have to have some faith in yourself and go for it.

What personal quality or characteristic has been most useful to you as an entrepreneur as you grow your business?

Integrity.
Related content