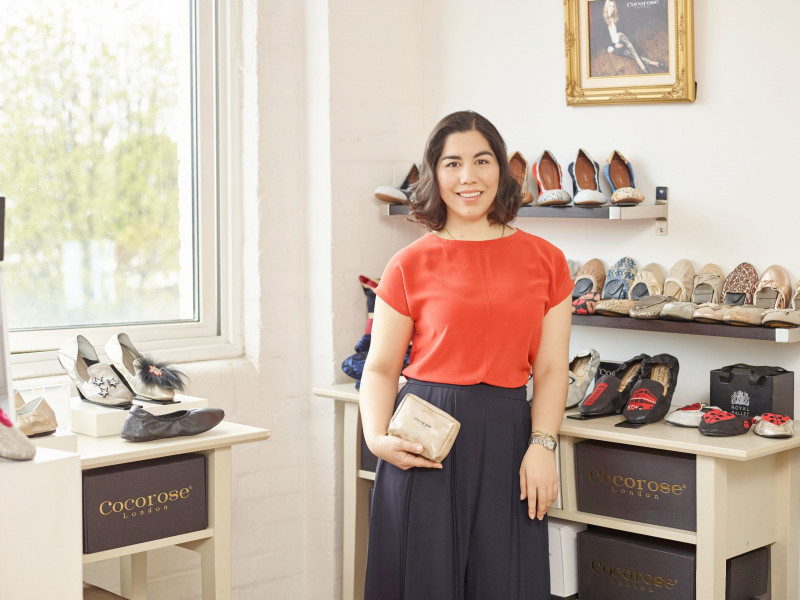 Janan Leo, CocoRose London
Running for a bus in high heels inspired Janan Leo to create foldable flat shoes that women could wear while commuting to work. Her London-based shoes and accessories business CocoRose London now has a turnover of £1 million.
What was the inspiration for your business?

I was a product development manager for Virgin Trains and had to dress smartly for work. One day I was running downhill in high heels to catch a bus and felt really frustrated at how restricting and painful the shoes were. I decided I wanted to create foldable flat shoes that women could wear while commuting to work, but that were small enough for them to store in their handbag when they arrived at work and changed into work shoes. It was very much based on a personal need for a product that didn't exist; I wanted to create something for women that would make our lives a lot easier.

Since then we have expanded into trainers and accessories such as bags and pouches.

How did you finance the growth of your business?

When I first started the business I had no idea if it would take off or not so to keep the risks low I started the business with £3000 of savings and kept my full time job at Virgin Trains. For the first three years I ran the business at evenings and weekends from our spare room, by which point it was selling hundreds of pairs of shoes a month so was able to give up my job to work on the business full time. We have never had any external investment and my partner Gareth and I still own 100% of the business.

What has been the most difficult or challenging part of growing your business?

A big challenge we have had to face in recent years has been the demise of the wholesale market. That has impacted us quite a bit. One of the key areas of growth for us in the beginning was working with wholesalers, mainly distributors and agents, and we would fly around to world attending trade shows in Milan and Paris and Las Vegas which was exciting and exhilarating. But the wholesale market started suffering from the demise of high street retail after years of global recession and the trade shows that had been really busy were becoming very quiet. So about four years ago we realised we needed to have more control over our sales. We decided to change direction and start building up our online sales so that we could sell direct to our customers.

What has been the impact of the pandemic on your business and how have you dealt with this?

There are positive and negatives that we have taken out of this. On the negative side, it really disrupted our supply chain, which affected our margins. The wholesale orders we had for spring/summer last year were also cancelled because all the shops had to close.

However on the positive side, we were able to sell that stock online because e-commerce just took off. The pandemic also really forced us to think about growing our product range. We started making face masks and donated all the profits to the Honeypot Children's charity, raising £20,000 for them so far. That gave us the opportunity to build an accessories collection and we started working with a British manufacturer of skincare products to create lotions and hand sanitisers.

We have also found our voice. I decided to take all our marketing in-house and do it myself and we have started connecting more with our customers through newsletters and phone calls.

What key lesson have you learnt about setting up and growing a business?

That need to have a clear direction for the business and be clear what your end goal is, otherwise you will just coast. I do feel that over the years we have sometimes coasted in terms of where are we going. It is ok to change direction if things don't work out the way that you want, but you need to be clear what the end goal is.

What has been your biggest mistake?

One of our biggest mistakes was not focussing on online sales sooner. We should have turned our attention to the e-commerce side of things earlier.

What has been the secret of your success so far?

Bloody mindedness, determination, hard work, and belief in the product.

What advice would you give an entrepreneur just starting out about how to grow their business?

Be razor sharp and focused about what the true cost of your product is, in terms of manufacturing and logistics and so on, so you know what price that product actually needs to be selling at. And if you are selling a brand, make sure it has a very clear identity, so that people get it and understand what you are about.

What personal quality or characteristic has been most useful to you as an entrepreneur as you grow your business?

Optimism.
Related content