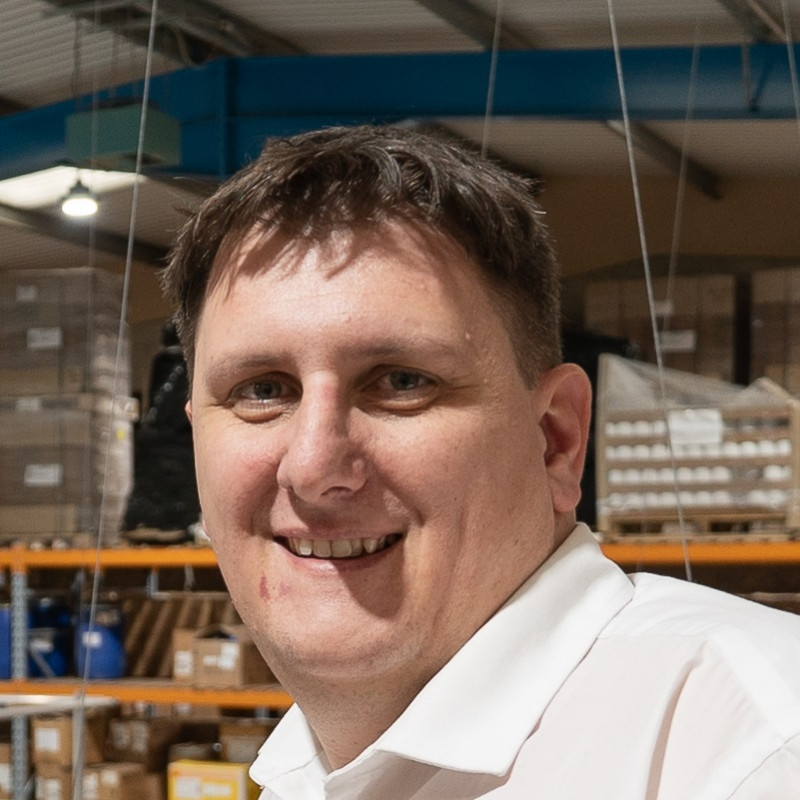 James Wilson, Private Label Nutrition
Expanding into manufacturing was an inspired move for Private Label Nutrition, a Blackpool-based business which makes supplements for the health food and sports nutrition industry and has a turnover of £3 million. Co-Founder James Wilson explains why.
What was the inspiration for your business?

My business partner Richard Richmond and I had been running a successful business providing Home Information Packs, an initiative introduced by the government for people moving home, but the scheme was suddenly cancelled so we had to close it down. Richard was on a health kick at the time and so in 2013 we started a business buying health supplements from contract manufacturers and then repackaging them under our own brand, which we sold on Amazon and eBay. Then we started making our own tablets and capsules, initially for our own brand, but then we became a contract manufacturer to other small businesses. We identified a gap in the market offering very low minimum order quantities for businesses that were launching a brand and lacked the capital to buy large amounts, and we have grown from there. We now concentrate on supplying other businesses rather than building our own brand and we do the whole process from mixing the powders through to producing the tablets and capsules and bottling and labelling them.

How did you finance the growth of your business?

At the time we started, the banks were extremely unhelpful so we originally financed the business ourselves using credit cards. We were quite lucky because we already had an office that we had been using for our previous business. Then when we moved into manufacturing four years ago we raised £200,000 through the peer-to-peer lending site Funding Circle which enabled us to move to a new site, purchase machinery and set up a clean room facility. We also got a small local authority grant.

What has been the most difficult or challenging part of growing your business?

Managing staff, dealing with local authorities and staying on top of trends in the market. Our industry is continually evolving and what is popular this year will probably not be popular in 18 months' time.

What has been the impact of the pandemic on your business and how have you dealt with this?

We have been very fortunate. People have become a lot more aware of the need to have a good diet and to build up their immunity, so there has been a big surge in demand for vitamin D and vitamin C. But also a lot of our customers are Amazon-based, so with the shops being closed they have seen an upturn in their sales which has then cascaded down to us. Our sales were up between March and July and then levelled off to what we would have expected normally. However getting supplies of raw materials and packaging has been challenging, and the cost of PPE, which we need to use in our clean room, has soared.

What key lesson have you learnt about setting up and growing a business?

To keep things simple. We are pretty streamlined in our whole operation and we see other companies which try to over-complicate things, whether that is in research and development or design. Sometimes I think people have departments for the sake of having departments. If it can be done simpler and more effectively then I think, why wouldn't you do that. For us it is a case of the simpler the better.

What has been your biggest mistake?

We should have perhaps taken the plunge and started manufacturing sooner, but on the other hand we learnt a lot from the experience of using other contract manufacturers. I think every mistake is an opportunity.

What has been the secret of your success so far?

Flexibility and adaptability in everything that we do, and being prepared to try new things. We have always jumped in both feet first. Some of it works and some doesn't, but as long as you are quite pragmatic about that and it doesn't cost you too much money or effort then that is how it has worked for us. It would have been very comfortable for us to stay using contract manufacturers but we would have never have got to the point where we are at now.

What advice would you give an entrepreneur just starting out about how to grow their business?

Do your research but don't overthink things, because if you don't take the risks then you are never going to actually go for it.

What personal quality or characteristic has been most useful to you as an entrepreneur as you grow your business?

Being a risk-taker.
Related content