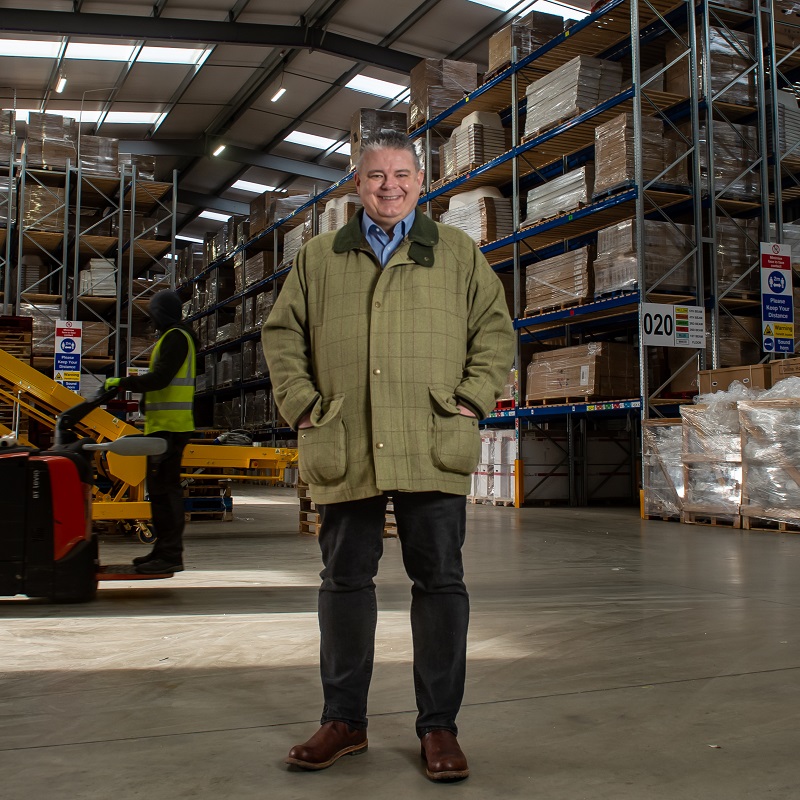 James Hickman, Plumbworld
One of the first online-only retailers, James Hickman has always invested in technology to keep costs down at his bathroom products business Plumbworld. The business grew by 26% in 2020 to a turnover of £61.5 million.
What was the inspiration for your business?

I used to be the Finance Director for a plumbing and heating company and left to set up a business building websites, but I realised it was a pretty lousy business model because the client walked away with an online shop and all I got from them was a few thousand pounds a year. So I decided to start an online shop of my own and chose heating and plumbing because I had some contacts in the industry. I initially thought I would be selling primarily to trade customers but within a couple of months I realised most customers were consumers so I swiftly tacked the business away from heating and plumbing into bathroom products.

How did you finance the growth of your business?

I had absolutely no money so I had to be creative. I did a barter deal with one of our first suppliers, and the deal was that they provided us with office space, warehousing space and funded our working capital stock requirement, and in return I gave them a 25% stake in the business. Effectively I had a blank cheque. That worked really well for the first four years, but by then we had outgrown their UK subsidiary by so much they asked me to buy back the 25% stake for £250, just to get them out of the contract.

What part does technology play in your business?

Technology plays a huge part in our business. I think one of the reasons we have been successful is we have always invested very heavily in technology in order to keep our people costs to a minimum. Anything that can be done by a machine, we try to have done by a machine, even to the extent of having AI chatbots answering questions for customers on our website. A lot of our systems are developed in house – for example we use our own in-house software to scan all our competitors online every day to make sure we are never under-priced on branded products. We also wrote our own anti-fraud algorithm to work out the likelihood of any customer transaction being fraudulent and we now screen all our orders through that.

What has been your biggest mistake?

I sold the business too soon. I sold it to a FTSE 250 listed builders merchant in 2007 and stayed on running it. I originally thought I might be able to turn round some of the crazy bureaucracy inside a Plc but after a few years I realised that was impossible. We were run as an independent subsidiary but we were so wrapped up in reporting and red tape we couldn't get anything done. I got more and more disheartened with trying to make the business thrive in that environment but fortunately in 2018 I was able to buy it back for just over half what I had sold it for, backed by Panoramic private equity.

I was absolutely ecstatic. From the moment we escaped the Plc clutches we were able to get back on with running the business and since then it has just gone from strength to strength.

What has been the impact of the pandemic on your business and how have you dealt with this?

The impact has been mixed. On the one hand it has been quite positive, because the lockdown has meant that people are spending more time shopping online. Also people working from home have become a lot more conscious of their domestic environment so they are prepared to spend more money doing up their homes than they would have been two years ago.

But on the negative side we have had a lot of supply chain problems with both UK and international manufacturers hit by Covid disruption and not being able to ship products, so we have had to work very hard to plug the gaps and find new suppliers.

What has been the secret of your success so far?

We are fanatical about giving our customers the best possible value, by sourcing products to get the best quality at the lowest price, matching the prices of competitors, and driving costs out of the business to pass on. I think if you are always focusing on giving your customers a really good deal then the success looks after itself.

What advice would you give an entrepreneur just starting out about how to grow their business?

Don't skimp on investment in technology early on – it might seem expensive but it will pay back huge dividends later.

What personal quality or characteristic has been most useful to you as an entrepreneur as you grow your business?

The ability to accept when I'm wrong.
Related content