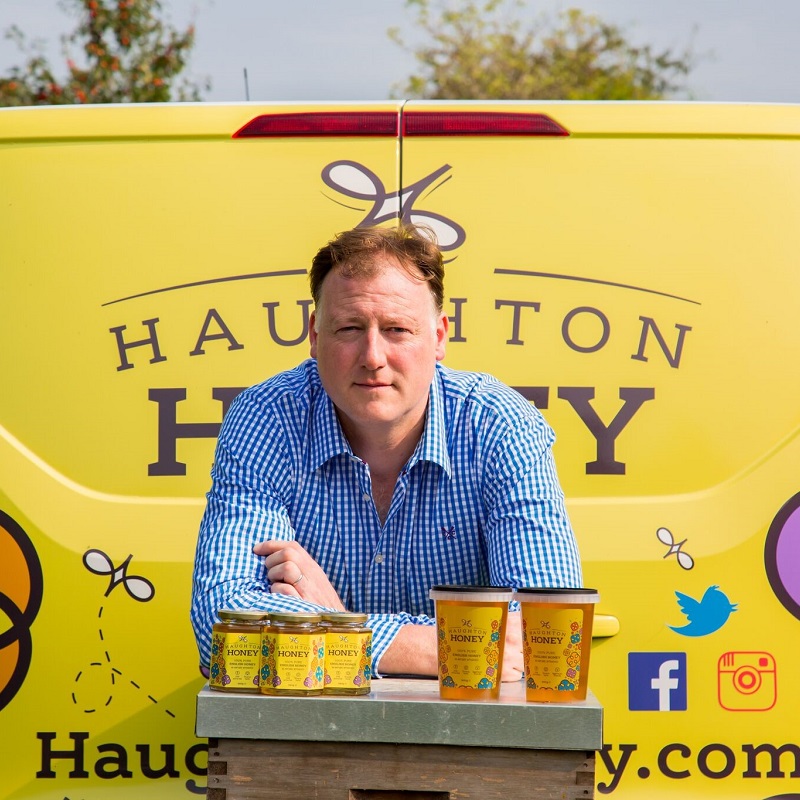 Cris Reeves, Haughton Honey
Using mail order rather than social media to drive sales, being stubborn and having the determination to make honey an exciting product again has been key to the success of Haughton Honey, a fast-growing English honey business in Cheshire, says its founder Cris Reeves.
What was the inspiration for your business?

I am a bee farmer and I am also a massive foodie and I realised that there was a need in the market to reinvigorate honey as a kitchen cupboard product. It had got very staid and very boring, and we wanted to do what Innocent Drinks did to smoothies and create a bright colourful British brand that stood out on the shelf. I wanted to make it a bit more interesting and exciting.

How did you finance the growth of your business?

I initially financed it with personal savings and then in 2016 we raised £112,000 by crowd funding through Crowdcube to expand and grow the business. Our target had been £80,000 but we were actually overfunded by 35%.

What has been the most difficult or challenging part of growing your business?

Generating good cash flow. It takes a great deal of time to grow a business to the point where it is self-reliant and self-sustaining. Cash flow is everything. If your cash flow is healthy then you are doing fine; if you are constantly struggling for cash, your business will be struggling too. I think learning that early on is very important for any founder.

What has been the impact of the pandemic on your business and how have you dealt with this?

As a food company we were probably the least affected by the pandemic so we have been very lucky. We lost a lot of wholesale business when shops and garden centres closed so we shifted our focus pretty much entirely onto our mail order business and heavily advertised in the national press which increased our turnover substantially. We were lucky that we already had an established infrastructure for mail order and were very good at it.

As a result we were incredibly busy during April and May 2020 when people were almost panic buying our products and our sales trebled in a matter of weeks.

We also launched our CBD infused honey in February 2020, just before the pandemic hit, which helped our sales. The timing could not have been better, because it is a health and wellness product for people who suffer from stress and anxiety, and of course there has been a lot of that around in the past year.

We are now seeing things return to normal but we have won quite a lot of new regular customers which we otherwise wouldn't have done.

What key lesson have you learnt about setting up and growing a business?

That you need to be able to say 'no' because there are so many opportunities out there that you can't say yes to them all. You have to decide for yourself what is going to generate a recognisable increase in turnover for your business. That can be a challenge because there are many businesses offering services that will try and relieve you of your investment funds.

What has been your biggest mistake?

We hired an agency to manage our social media platform which got us a large number of followers but it cost us a great deal of money and it just didn't sell honey. It was a very expensive vanity project that didn't contribute towards the cash flow. We also hired some so-called sales expertise that cost us a large monthly retainer but didn't actually deliver sales.

We are very obsessive about where we spend our money now and if we don't think it is going to help raise our brand profile or more importantly generate money for us, we don't do it.

What has been the secret of your success so far?

We spent a large amount of money and passion developing our brand. I am really proud of our brand because it is very simple and it says exactly what we are.

What advice would you give an entrepreneur just starting out about how to grow their business?

Have an eye on the future but also focus on the current month, because if you don't get to the end of the current month then there is no future.

What personal quality or characteristic has been most useful to you as an entrepreneur as you grow your business?

Being stubborn.
Related content