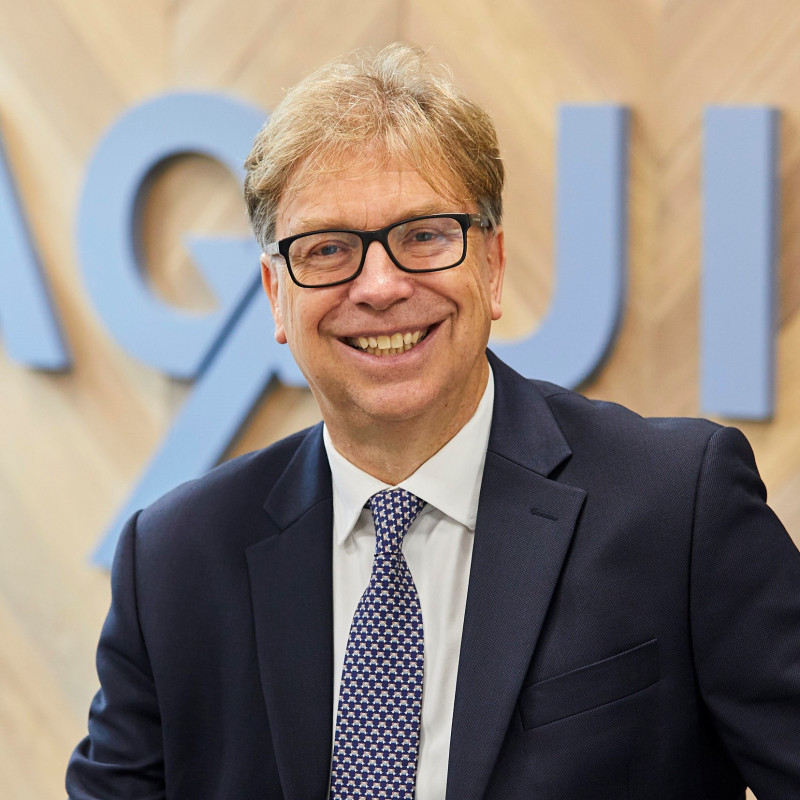 Alasdair Haynes, Aquis Exchange
Alasdair Haynes is the founder and CEO of Aquis Exchange. He talks to GBI editor Greg Gille about building the pan-European equity trading platform, challenging the scale-up funding status quo, and how the UK can become the epicentre of the next generation of tech giants.
What does Aquis do?

Aquis Exchange PLC is formed of three divisions, with distinct offerings. The first, Aquis Exchange, is a subscription-based operator of a Multilateral Trading Facility (MTF) business in the UK and the European Union; it operates lit and dark order books and does not allow aggressive, non-client proprietary trading. Aquis Stock Exchange (AQSE), the second pillar of the business, is a stock market providing primary and secondary markets for equity and debt products; it is permissioned as a Recognised Investment Exchange, which allows it to operate a regulated listings venue and a growth market. Aquis Technologies is a software and technology division, which creates and licenses cutting-edge, cost-effective matching engine and trade surveillance technology for banks, brokers, investment firms, and exchanges around the globe.

When and why did you decide to start the business?

Aquis was set up in 2012. One of the catalysts for its creation was that there was no subscription-based exchange in the world at the time - instead, pricing on traditional exchanges is based on a percentage of the value of each stock a company trades, which puts smaller firms at a disadvantage. We looked at what Vodafone, for instance, was doing in the telecommunications space and thought there was an opportunity to develop a subscription model, based on the message traffic companies generate, with various pricing bands to allow additional flexibility.

The next leap in establishing what Aquis Exchange PLC is today was the acquisition of NEX Group's exchange business from the CME in 2020. This provided the group RIE status in the UK, and thus, a path to compete for IPOs and improve secondary market trading.

The fundamental belief behind this milestone is to help growing businesses find scale-up capital in an efficient and straightforward way, to provide them with an exchange partner that supports their growth through appropriate and proportionate rules, and by protecting them from aggressive short-selling. The UK is great at getting start-up capital into the hands of the best entrepreneurs through the funding routes offered by schemes such as EIS and SEIS, as evidenced by the number and quality of outstanding businesses created in the country. Where we are struggling is scale-up capital. Currently the only way to access that is through venture capital, private equity, friends and family, or family offices. We are convinced that public markets have a vital role to play here, and particularly a new-economy exchange like ours as more traditional exchanges are not the best suited given their pricing and rule structures, which really put smaller companies at a disadvantage.

Companies now tend to go public when they are worth about £200-300m - our focus is to get companies public when they are in the £10-100m size bracket. At the moment, the large-cap, high-profile tech stocks all want to ultimately list on Nasdaq, because that's where they will get the highest rating. The UK may have already lost the battle for some of these companies, but what Aquis can do is compete to retain the future stars, by getting many of these companies to be quoted earlier and retaining them with a strong rating, so that there is no reason for them to move. That's how we will attract and nurture the Amazons, Apples and Netflixes of tomorrow, here in the UK.

Aquis has a lot of competition, be it in the form of other exchanges on the public side, or companies instead turning to private equity funding or debt to finance their growth. How do you stand out?

A key point of differentiation from the other exchanges is our tailored suite of rules and regulations, are designed with smaller, growth-stage companies in mind - as opposed to the current rules and regulations on the main UK exchange, which were drafted for a monopoly.

Also, we meet our companies much earlier in the process, so we can get to know them and understand their objectives. We work with the company and their adviser to ensure a smooth admission process, and this can save on time and cost. We differentiate on simple things, but that can make all the difference for a start-up or scale-up business: we only require a two-year track record as opposed to three years, and it is amazing how many companies that affects.

We want a much closer relationship with our companies, unlike on traditional exchanges where you will essentially lose that direct relationship as soon as you list. We interview the boards of all the businesses aiming to quote on our platform, and really get to understand their business model and their plans. We want a symbiotic relationship between us, the company, and the adviser - we want companies to succeed because it makes our market better, but the companies also want our market to succeed because their ratings will go higher.

Furthermore, we ban third-party short selling for companies in our Apex segment. We believe that is right because they are less liquid than FTSE 100 or 250 stocks, and we need to protect these businesses and their shareholders as they grow. This is not about protecting poor companies; if a business is underperforming, the shareholders have the first right to sell the stock, not a third party who comes in and sells it short.

As for private equity and venture capital, I don't think there is anything wrong with that model, but we are certainly offering competition to it - at least at the early stage. The more competition there is when it comes to sources of funding, the better it is for companies out there because they can lower the cost of capital, and that will become incredibly important over the uncertain 12-18 months ahead.

What has been the most difficult part of growing the platform, and how are you addressing that challenge?

An initial roadblock was to physically change the guidance and rules, and spending time with treasury and regulators to make these changes happen.

Now, the main challenge for us is to raise awareness of the exchange and our message, and to make sure people understand we are a challenger, next-generation exchange that's not simply looking to replicate what the other markets offer. Conversely, it is important to prove we are not just the latest in a string of newcomers that will never manage to make any headway.

We have powerful tools to address that, starting with the fact that Aquis Exchange is now the seventh largest cash equities trading business in Europe, and we also have great connectivity as evidenced by the fact that one in 20 European trades is done on the platform. On the primary side, we have also welcomed 15 IPOs so far this year, which is currently more than AIM - and our sales funnel counts another 40-50 companies at various stages of the process. People are starting to take notice and realise that the myth of "you can't raise outside of the established public markets" is simply not true anymore.

What do you see as the main challenges faced by UK SMEs in the current market conditions, and how does that tie in with how you will measure success for Aquis in the coming months?

We are in a period of great uncertainty - we have gone through Brexit and through the pandemic, we are now heading into recession… But true innovation usually happens at a time of difficulty, and I am convinced that we will see some fantastic businesses coming out of this period.

The problem these companies will face is raising capital. This shouldn't be confused for a lack of available capital, though. There is a lot of money out there, we just have to be much more innovative and nimble in getting it to the right businesses. There is an incredible opportunity for us to help bring scale-up capital to the best companies, especially as they are likely to be faced with traditional sources of finance drying up.

The goal for us in that context is to get a large group of companies on our exchange; I do believe we can get hundreds of companies that want to raise anywhere from £5-20m to do that on our platform, securing that capital from both retail and institutional investors. Our ambition is to be the Nasdaq of Europe - we are not at that level yet, but we are getting there! I am not particularly motivated by money or titles, but I am certainly motivated by change. That is what we are doing here: more than just challenging the status quo for the sake of it, we are genuinely making markets better.

Alasdair Haynes is the founder and CEO of Aquis Exchange, and Chair of TheCityUK's Business Council. He is the former CEO of Chi-X Europe and was responsible for growing the business into Europe's largest equities trading platform and into profitability before its sale in late 2011. Prior to that, Alasdair spent 11 years heading up ITG's international business and has held senior positions at a number of investment banks, including Morgan Grenfell, HSBC and UBS.
Related content